Canada – The Big Picture
Canada is the second largest country in the world stretching from the Atlantic Ocean in the east to the Pacific Ocean in the west, the USA in the south and into the Arctic Circle in the north. It is organised in 10 Provinces and 3 Territories. Canada's population is just over 35 million. More than half live in the metropolitan areas of its 9 largest cities: Toronto, Montreal, Vancouver, Calgary, Ottawa, Edmonton, Quebec, Winnipeg and Hamilton.
Canada is among the top 3 countries to live in compared to more than 174 countries measuring over 200 performance factors. Canada is ranked as the 10th highest nation in the Human Development Index (HDI) which measures life expectancy, education and per capita income.
Why Canada
If you are looking to build a new life in one of the safest, most immigrant friendly countries in the world, then Canada is the place for you. Canada upholds the core values of equality, diversity and respect for the individual. A country built on immigration, Canada has a peaceful multicultural society with a stable democratic government and a robust economy that provides a wealth of opportunities at every level.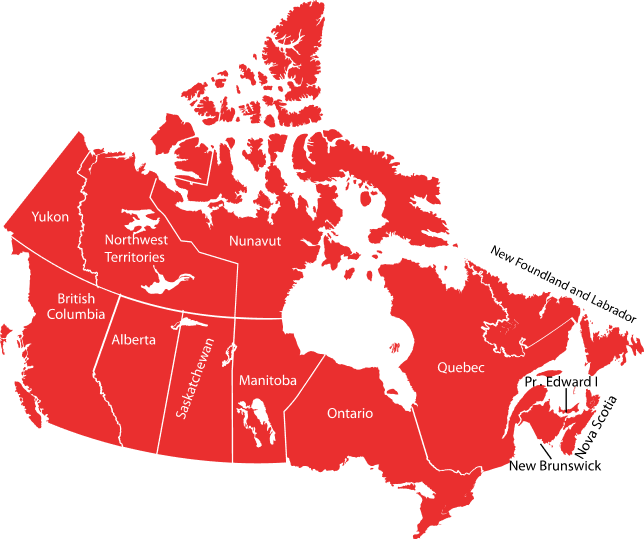 Quality of Life
Canada is a great place to live. It has been consistently ranked at the top in terms of quality of life, career opportunities, healthcare, and more.

Economy
Fastest economic growth for over 10 years
Fastest growing economy of all G7 countries
Ranked in top 10 world economies
Over $47,000 average total annual income
Nominal GDP approx. US$1.5 trillion
With its economy growing at the fastest pace for over a decade, the OECD, the Organization for Economic Co-operation and Development, recently placed Canada at the top of all G7 countries. The Toronto stock exchange is the 7th largest in the world, featuring 1,500 companies who together had a total market capitalization of over US$2 trillion in 2015. Canada's nominal GDP is around US$1.5 trillion, and ranks 15 in nominal per capita income globally, with an average total annual income of $47,487 – $56,740 for men, 38,632 for women (2016 census).

Universal Healthcare
Canada has a publicly funded, privately delivered health-care system called Medicare. This provides near universal coverage to all Canadians 'according to their need for such services and irrespective of their ability to pay. Some services are not covered or are only partly covered by Medicare, such as dentistry, optometry and prescription drugs. That's why most Canadians also have some kind of personal private insurance plan.

Climate
As you'd expect from such a large country, the climate varies greatly from region to region. During the summer on the east and west coasts, average highs are often in the low 20's °C (70's °F), while inland the average summer highs range from 25 to 30°C (77 to 86 °F). Temperatures in some interior areas even exceed 40° C. In winter, the temperate climate of coastal British Columbia gives it mild and rainy weather. However winters can be really cold in many interior and Prairie provinces. The continental climate means average temperatures often fall to around −15° C (5° F), but can drop below −40° C (−40° F) with severe wind chills. In much of the interior, snow can cover the ground around six months a year, while in the north the snow can last all year round.

Jobs
Canada's unemployment is at the lowest level since 2008. This means that it is relatively easy to find jobs in Canada. Canada is home to many global technology companies, and its manufacturing, telecom and service sectors reflect Canada's position as a modern industrialised nation. The majority of the workforce is employed in service industries. At the same time primary industries like oil & gas, mining and forestry still play a large part in its economic life. With 13% of the world's oil reserves its oil & gas sectors are set to be robust elements well into the future. Science and technology are also important. In a major survey of international scientists, Canada ranked 4th worldwide in the quality of scientific research. Canada spent almost C$32 billion on R&D in 2015.

Population & Language Diversity
Canada is home to over 200 different ethnic communities, making it one of the world's most culturally diverse countries. Canada still welcomes large-scale immigration from other countries, including refugees, giving it one of the highest global per-capita immigration rates. English and French are Canada's official languages and the mother tongues of most Canadians. However, for 20% of Canadians one of over 200 other languages are their mother tongue. Almost 20% of Canadians speak 2 or more languages.

Education
From primary school to university level, Canada's public education system was ranked No. 1 in a recent US News & World Report survey of 80 countries created in cooperation with Professor David J. Reibstein from Wharton School of the University of Pennsylvania. Canada's well developed free primary and secondary education runs from age 5, preparing children for some of the top ranked universities in the world. The survey showed that Canadian youngsters score well above average on all indices of the OECD's Program for International Students.
According to the International Student Survey conducted by the Canadian Bureau for International Education, over 90%of those in higher education were satisfied or very satisfied with their studies in Canada, and 95% would recommend Canada as a place to study.
For anyone with children or wishing to pursue a path of higher education, Canada is among the world's most attractive destinations.
Speak with a Personal Consultant